In April, world-renowned Ornellaia Winery in Tuscany, Italy, released its Grand Vin, Ornellaia Bolgheri DOC Superiore 2017. The name "Solare", "radiant" in English, was chosen to define this vintage – unusual frost, heat and drought extremes, which nonetheless resulted in an elegant wine of bold personality.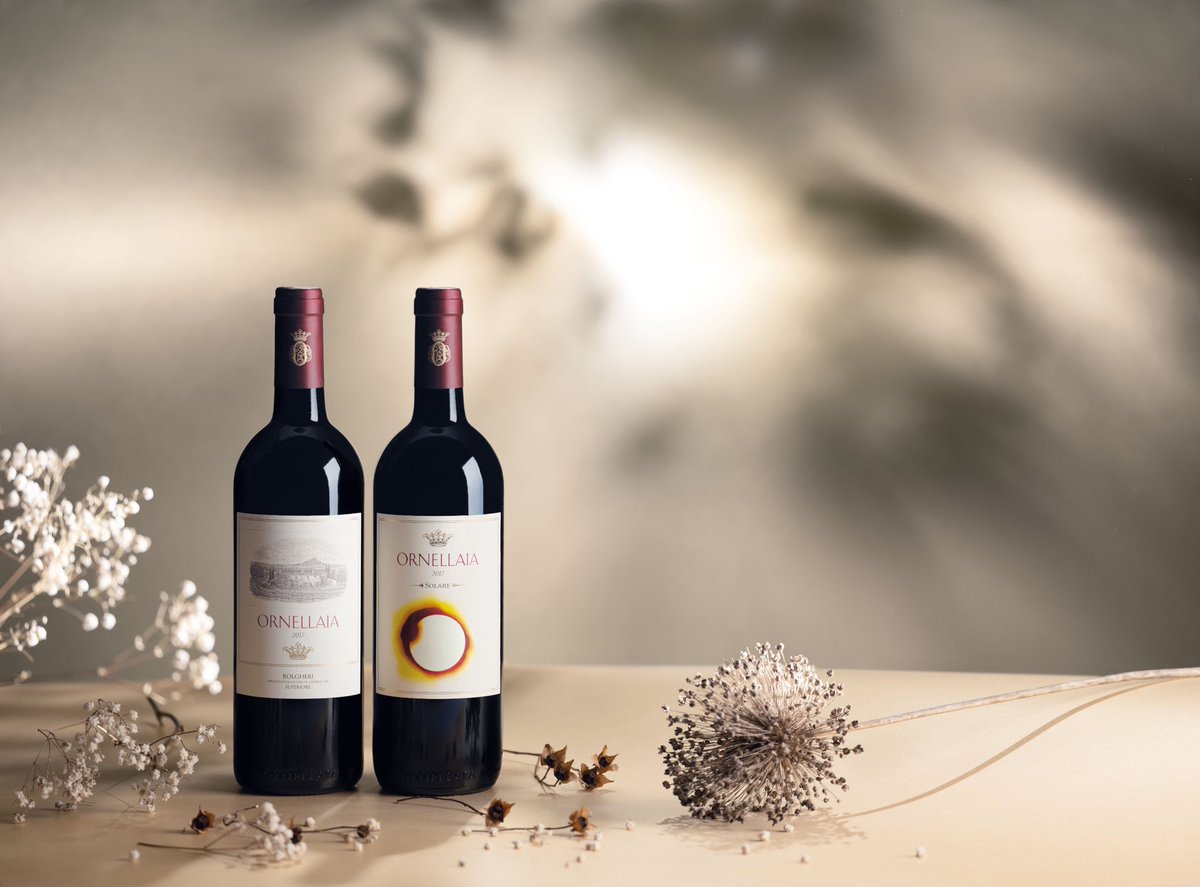 How Does Ornellaia Solare Taste?
Estate Director Axel Heinz remarked about the surprisingly harmonious wine crafted by winemakers' gentle handling of slightly younger grapes. Solare has characteristic notes of liquorice and blackberries with velvety tannins, yet rich acidity and roundness with "Mediterranean sumptuousness".
From an Unpredictable, Extreme Climate
A stark contrast to outstanding vintages of 2015 and 2016, 2017 was a record unpredictable season showing climate change effects, which Ornellaia is proactively responding to for years. A mild winter, above-average temperature fluctuations with little rain during critical vine development stages forced buds to break earlier, and an earlier harvest.
Use of Sustainable Practices
Despite needing to adapt and forgoing traditional methods, Ornellaia achieved excellence  with sustainable practices, such as precision viticulture and terrain preservation. In addition, they use low-impact defences to maintain a self-regulated ecosystem that ultimately creates uniquely distinctive wines.
Sustainability as 2017's Vendemmia d'Artista Theme
Every year, Ornellaia invites celebrated artists to design limited edition labels through its Vendemmia d'Artista project. Choosing Sustainability as the annual theme for 2017 Solare, Artist Tomás Saraceno designed unique thermochromic heat-sensitive labels, a reflection of humanity's impact on its environment. The ten Imperial and the lone Salmanazar will be auctioned on Sotheby's in September. Profits from the event will be donated to the Solomon R. Guggenheim Foundation's "Mind's Eye" program.
About Ornellaia –http://www.ornellaia.com
The name Ornellaia is synonymous of fine winemaking and an authentic expression of the beauty of Tuscany. The estate is situated along the Tuscan coastline, a short distance from the medieval town of Bolgheri and the iconic cypress-lined approach. Ornellaia Bolgheri DOC Superiore and Ornellaia Bianco are the estate's top wines, ensued by the second vin Le Serre Nuove dell'Ornellaia, Le Volte dell'Ornellaia and the white Poggio alle Gazze dell'Ornellaia. In little over thirty years (the first vintage of Ornellaia was in 1985), the team's dedication accompanied by optimal soil and microclimate have resulted in critical acclaim and public success within Italy and internationally. 
About Vendemmia d'Artista
Vendemmia d'Artista celebrates the exclusive character of each vintage of Ornellaia. Since the initial release of Ornellaia 2006, Ornellaia has commissioned an internationally-famous contemporary artist to create a work of art for the estate and a series of limited-edition labels, inspired by the character identified by the Winemaker and Estate Director, Axel Heinz, to describe the particular characteristics of the new vintage. 111 large formats, of which 100 3-liter Double Magnums, 10 six-liter Imperials and a nine-liter Salmanazar, are sold or auctioned off by Sotheby's Wine for charity.